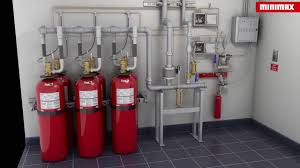 Minimax MX 1230 fire extinguishing system, uses 3M™ Novec™ 1230 Fire Protection Fluid. This fluid will not damage electronics and will leave no residue behind. It also has a higher safety margin than any other clean agents on the market, making it extremely safe for people working in protected areas. With 0.0 ozone depletion potential, an atmospheric lifetime of just five days, and a global warming potential of 1.0, the MX 1230 system is the long-term alternative to Halon 1301.
Our exclusive 725 psi system allows longer pipe runs, smaller pipe sizes, remote tank locations, and multi-zone protection from a single cylinder bank.
With the only Novec™ 1230 system approved for use with selector valves, Minimax can deliver cost savings and system flexibility for larger area protection. Contact us today.